AliExpress drop shipping is a great method to launch an internet business without having to worry about delivery, warehousing, and logistics. It is as simple as having a product catalog on your website. This technique of order fulfillment eliminates the need for startups to maintain product inventories. Even though it is a very practical technique to launch an online business, there are several challenges involved.
In this blog, we cover all the fundamentals of dropshipping and the way it functions with AliExpress. For those of you on the edge of starting a dropshipping business on AliExpress and needing a slight push, this blog is for you! We cover all you need to know about dropshipping with AliExpress, how it works, some of the best products you can sell, and whether it's worth it. So, read on and start your AliExpress dropshipping business without any doubts!
What is AliExpress Dropshipping?
AliExpress is a China-based online platform that was established in 2010 and is owned by the Alibaba group. AliExpress has quickly been established as one of the world's top online retailers and offers anything and everything from clothing to accessories and much more. It is a paradise for buyers and offers over a hundred items on sale.
The majority of AliExpress merchants are foreign producers. Therefore you can get popular items for less money. Products here include anything from women's apparel and jewelry to gadgets and household goods. If you are looking to buy goods to sell online, AliExpress is the perfect outlet for sourcing winning products.
AliExpress dropshipping is the process of locating suppliers to complete your transactions on the platform. Your supplier on AliExpress will pack and deliver every order customers place on your dropshipping business. Thus, it is similar to the standard dropshipping business model using AliExpress as the sourcing platform.
Does AliExpress Allow Dropshipping?
Yes! AliExpress not only allows dropshipping, but it's among the biggest dropshipping marketplaces in the world. Most of the suppliers on AliExpress offer products at incredibly low rates, and as most of you might already know, the secret to operating a profitable dropshipping business is locating inexpensive products.
Dropshipping on AliExpress is therefore not only possible but also becoming more and more popular. Despite the fact that suppliers on AliExpress are retailers, too, most of the customers on the platform are also retailers. As a result, dropshipping on AliExpress is incredibly easy since suppliers are prepared to accommodate your demands and have experience working with dropshippers. With zero startup investment or fees, dropshipping from AliExpress allows you to test out items risk-free.
Is AliExpress Dropshipping Still Worth It?
Have you been considering starting a dropshipping business but are unsure if it will be worth it on AliExpress? You'll be glad to know that not only is it worth it, but if done right, it can be an extremely profitable venture! Profits from dropshipping and e-commerce have surpassed $4 billion, a rise of 7% annually over the past ten years. Furthermore, thanks to smartphones, the conversion rates for small startups and retailers have increased by over 30%!
What's more, is that AliExpress dropshipping is very straightforward and easy to understand. Simply choose a product, make a payment, and provide the seller with the address where you want the item mailed. Even though AliExpress portrays itself as an online retailer, the majority of its suppliers are aware that most of the clients are resellers and are significantly focused on dropshipping.
You can also use current product photographs from many AliExpress merchants on your storefront, as well as the brief product descriptions available. Conversely, while marketing a standard product, don't overlook the significance of creating uniqueness through attention to detail; it will typically be worthwhile to devote more time to better product descriptions and images.
You might be wondering just exactly how profitable a dropshipping business through AliExpress could be. Let's help you out with an example:
Consider sourcing a product from AliExpress for $15. Now, you are selling this on your online store for $30. The profit you make from this, after deducting the marketing and shipment costs, is approximately $10. Hence, if you are able to sell over 1000 products in 1 month, you make a profit of over $10,000! This results in an annual income of over $120,000!
This calculation is not an exact estimate; however, it is enough to give you an idea of how successful AliExpress dropshipping can be. However, it has to be done right! And to learn how to make your AliExpress dropshipping business a success, continue reading.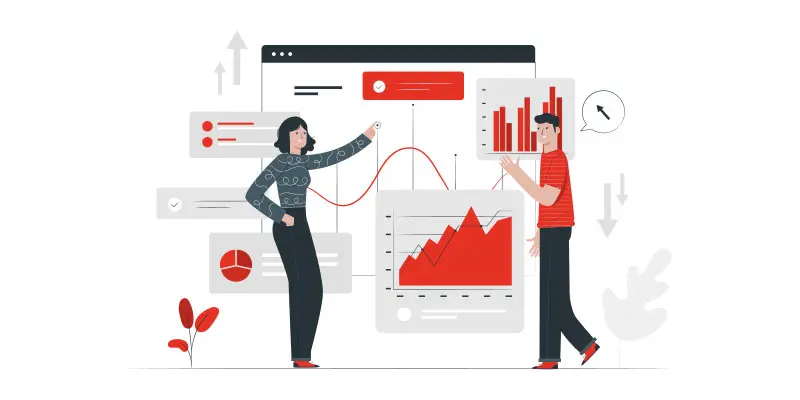 How to Start AliExpress Dropshipping?
While a lot of the advantages of dropshipping using AliExpress have already been discussed, it may be challenging to understand how it works. So let's first go over the process in detail.
1. Make an online store.
The first thing you'll have to do is open an online store on a platform like FillSell, WooCommerce, or Shopify.
2. Choose the Products You Want to Sell
This is a critical component in any startup that has a significant impact on all businesses. It determines if your organization will succeed. After selecting the market sector, take your time choosing the right products. Carefully choose items that fall under your segment. You must choose trending items with a minimum of 400 orders and 4.2 stars, at least in customer reviews. Additionally, you need to take care that the product descriptions and images offered by the vendor are real and not fake.
3. Find a Reliable Supplier
Finding a reliable supplier is a tough challenge. There are lots of distributors and suppliers in the marketplace, but it might be difficult to locate ones who are authentic and trustworthy. A reliable and trustworthy provider has the power to alter how you interact with your customers and conduct business.
You can view and evaluate as many items and their catalogs as you want until you're happy with everything. Additionally, always feel free to contact the suppliers when dealing with them. Ask them any and all questions that come to mind. It will help you to resolve all of your concerns.
You can use FillSell to get connected with the best suppliers for your choice of product. You may easily make a sourcing request by importing goods or by entering a link from AliExpress. You may easily make a sourcing request by entering a link or by importing products from AliExpress.
In addition to connecting you to online shops, this dropshipping platform handles all your product sourcing. You may purchase the exact goods featured on AliExpress or from the store of your rival for lower costs and similar quality by using FillSell.
4. Add Items to Your Online Store
Once you've completed the tasks mentioned above, proceed to add your chosen products to your online store. Make sure you aren't simply copy-pasting the images and product description onto your store but instead make your store stand apart from the competition by making your products distinctive, plagiarism-free, and original. This will help your SEO rating and boost your conversion rates.
It's also a good idea to have photos of the merch taken personally since this will leave a poor impression on your prospects. Try to create attractive, high-quality images that aren't simply taken from Google. Finally, you will contact your AliExpress supplier and request the very same product to be supplied to the customer once they have placed an order through your shop.
Top 9 AliExpress dropshipping products
The most important thing about your dropshipping business is the product; if you get that right, your business will most definitely succeed. But the question is, how do you know your product is right?
With the help of AliExpress Dropshipping Center!
The AliExpress dropshipping center is a feature that AliExpress recently introduced. Although it's still gaining popularity, it can immensely benefit the launch and promotion of your dropshipping store. The AliExpress dropshipping center greatly simplifies the procedure of product research and analysis while also facilitating connections with reputable sellers that could otherwise be challenging to locate. The best feature is that using it is totally free.
The program is regularly updated, and with every release, new and upgraded functions are added. Within the AliExpress dropshipping center, you have access to two incredible features. The instrument for product research is the first and primary one. This one comes with three more features! A simple method for determining how many sales an item from an AliExpress supplier has is also included in a second tool. This feature can be of great help to both new and established dropshippers, and if you are a beginner, we have made things even easier for you by sharing some of the top AliExpress dropshipping products.
1. Yoga Mats
You may wonder why we have included yoga mats on this list when the market is clearly saturated; however, that doesn't mean they won't sell. On the contrary, being a beginner, working with a product that already has a huge market can have several benefits; plus, it is easy to ship, and you'll be targeted in the fitness niche starting off your business with this product.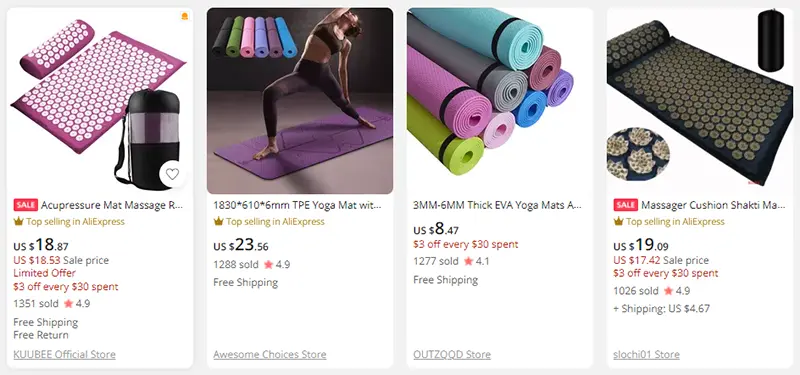 2. Water Bottles
You don't need to think of anything original to attract customers, and since newer generations are more well-informed regarding keeping themselves hydrated, water bottles can make an excellent product addition to your dropshipping store.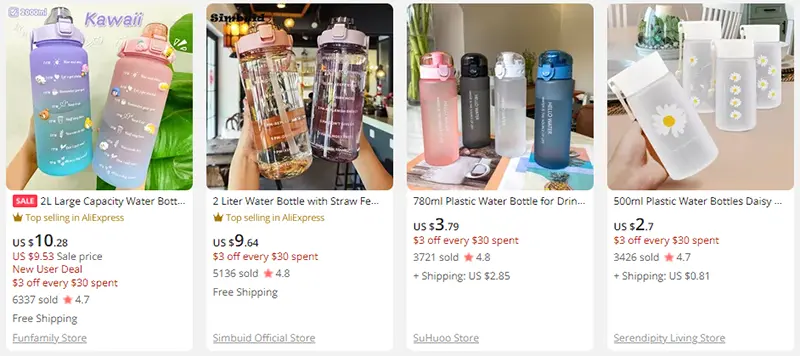 3. Gaming Headphones
Products with a good upsell possibility include gaming equipment and headphones. Every two months, new headsets are introduced, and users frequently indicate a desire to upgrade. Therefore, if you wish to get involved in this rapidly growing market, gaming headphones are a great place to start.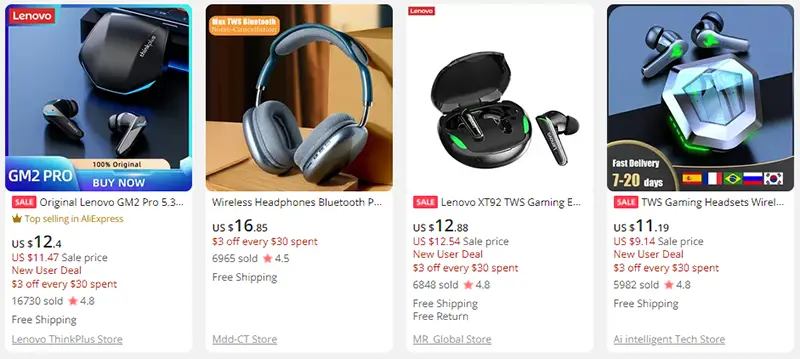 4. Temporary Tattoos
Tattoos are major commitments; you can't remove them once you get them done. We are aware that there are already surgical treatments available to remove them, but these can be time-consuming and costly. Because of this, temporary tattoo stickers may be an excellent drop-ship product. People can apply these tattoo stickers to visualize they might look on their bodies before getting inked permanently.
5. Soft Toilet Seat Covers
This product might be weird, but maybe that is why it is among the top trending products in dropshipping stores these days!
6. Pet Socks
You can never go wrong with pet supply. People absolutely adore their pets, and the more your store caters to these cute animals, the more repeat clients you get and the more money! Pat socks like these are a win-win for sure!
7. Sand Free Beach Mat
Products that can solve problems are always safe for dropshippers. And this product is great for families or anyone who doesn't like getting all sandy while on the beach. It is also perfect as a seasonal item for summer!
8. Photo Frames
Photo frames are a great addition to every house and room. To be honest, one can never have enough of them, and they also make great gifts! Therefore, photo frames can also be an excellent product in your dropshipping store.
9. Shoes
There is a high probability that you must've ordered a pair of shoes online. It could've been an impulse buy, or maybe they were very reasonable, and you did buy it. This proves that basic items like shoes or other apparel are great additions to a dropshipping store.
FAQ of AliExpress Dropshipping:
Q1: Can you dropship branded products from AliExpress?
On Chinese marketplaces like Alibaba or AliExpress, dropshipping branded goods from the majority of small and mid-sized brands is both legal and possible. You aren't even required to seek permission or obtain a license.
Q2: Can you use AliExpress photos or videos for dropshipping?
Yes, product photographs being used on AliExpress marketplaces are often open-source (if they are not watermarked), so displaying these on your item and category webpages won't give rise to any copyright concerns. It is advisable to get in touch with the source before utilizing them if they have been watermarked or if there is any suggestion that they might be copyrighted. You run the risk of facing legal repercussions if you don't.
Q3: Can you dropship from AliExpress to Amazon or eBay?
Yes, you can dropship easily from AliExpress to Amazon or eBay. All you have to do is find a trustworthy and reliable supplier.
In Conclusion
Now that we've covered all you need to know about dropshipping with AliExpress, it's time to set up your online store and dive into the business world. Your dropshipping business will be even easier with the help of FillSell, as it'll help you locate authentic and reliable suppliers on AliExpress and can easily be integrated with any platform, including Etsy, WooCommerce, and Shopify! Yes, you can dropship easily from AliExpress to Amazon or eBay. All you have to do is find a trustworthy and reliable supplier.