Today's booming e-commerce market has opened new doors for people to start businesses and generate income. However, of all the popular platforms, Etsy remains one of the most demanded marketplaces for artsy and handmade items purchases. That's one of the reasons why people are still searching for "How to start an Etsy store in 2023?"
This blog post discusses all you need to know about starting an Etsy store in 2023 and how to run the business successfully.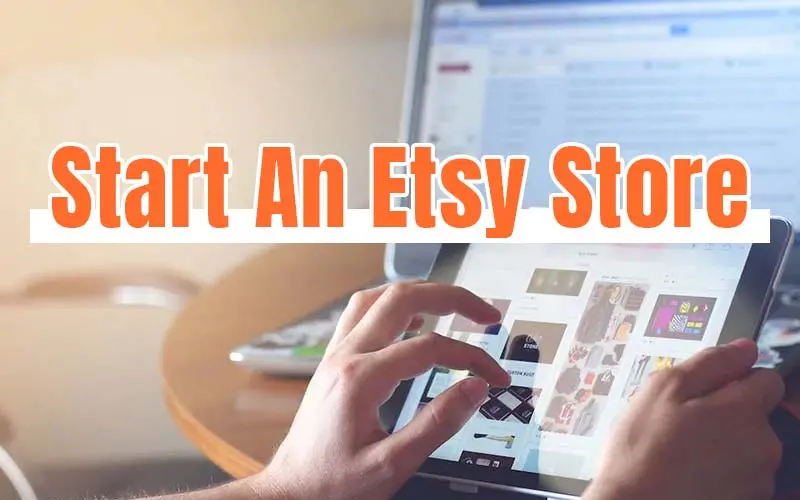 Is Starting an Etsy Store Worth It in 2023?
Despite Etsy's popularity rising since its inception, many still have reservations about starting an Etsy store in 2023. Let's address them one by one:
High Competition
From 2012 to 2021, Etsy accumulated 7.5 million active sellers. This number indicates the clear competition on the platform. Getting recognized as a new seller and building the customer base may take a while.
However, here's another way to look at this situation. Today's advanced marketing tools can offer exceptional traffic if used right. Moreover, introducing a new and unique yet in-demand product to Etsy can create more followers.
Hence, what you bring to the store and how well you market your unique products can work wonders to change the game.
Multiple Fees
A USD 0.20 listing fee, 5% transaction fee, and 3% payment processing fee (if you accept payments from Etsy's system) make Etsy financially taxing. The product you sell will have all these deducted costs processed, and the net you receive may not offer enough profits.
On the other hand, if you fix your product rates keeping all the costs in mind, you will have a substantial amount left as profits. The simple math of profit and loss can assist you in fighting this issue. Moreover, the more unique your product is from the rest of the market, the more people willingly pay for them.
Management Challenge
Another major factor that scares away beginners is management issues. An Etsy shop has multiple operations running behind the scenes.
Inventory management, fulfilling orders, and providing excellent customer service are crucial for the business. All these management challenges can make the task tiring, especially when you're an artist who must also focus on designing and manufacturing.
Here are some ways to resolve this issue:
Ask for help from friends and family or partner up with them for your business.
Hire someone remotely to manage the tasks once your store starts making you profits.
Start an Etsy store with a dropshipping supplier . These businesses take care of each management challenge so that you can focus on earning profits.
Limitation to Customization
Building and managing a unique brand on Etsy may not be possible as the customization tools for storefronts are limited. Buyers won't remember your brand if all the storefronts look and feel the same.
Here are some ways to make customization the least of your worries:
Use your social media presence for your business's branding. The digital age buyers opt for social media first and other platforms second. You can easily attract them through that channel via paid ads and then lead them to your store.
Your services speak louder than your store's aesthetic presence. If you make your customers feel valued, you'll leave them with something non-tangible: an unforgettable experience.
You can use various tools for building your brand. For instance, use personalized packages for your products, add the company logo, and maybe a handwritten note as a warm gesture.
Remember, how you make your customers feel is far more important than the aesthetics of your storefront. Cash out on your business's uniqueness and customer service.
Starting an Etsy Shop: Checklist for Beginners
Starting an Etsy store can be overwhelming for individuals new to the e-commerce market. This checklist will assist beginners in successfully starting their Etsy business.
Here are all the steps you need to take to start your Etsy store:
Step 1. Determine Your Niche
Before starting an Etsy store, take a step back and determine the niche you want to pursue. Do you want a jewelry store, or will you sell handcrafted home decor elements?
Determining your niche offers clarity regarding materials and associated costs in the initial process. Moreover, you can also decide how you'll scale or diversify your business onwards.
For instance, jewelry artists can add variety to their jewelry items. Moreover, many jewelry boutiques also offer jewelry boxes or ceramic stands for purchase.
Step 2. Research Your Competitors
Once you've determined your niche, you must research your competitors within the niche. Visit the stores offering similar products and explore their social media accounts.
During competitor research, you must look for two crucial things: best practices and gaps. Follow the best practices and offer various solutions for the gaps. Doing so will attract more customers and help build a loyal base.
Moreover, competitor research can also give you a clear idea for pricing products. You can observe what prices customers are willing to pay and how much further you can push them.
Step 3. Register for an Etsy Account
Registering an Etsy account is quite straightforward. You only need your email address, username, and password to sign up.
Step 4. Set Up Your Etsy Shop
After registering an Etsy account, set up your shop following multiple prompts that the platform will provide you. These prompts ask for your store's name, logo, and policies to assist you in setting up a professional and hassle-free store.
However, before jumping blindly into this process, go through Etsy's regulations and guidelines. Reading these mundane yet essential policies will help you understand the platform better and use various resources.
Step 5. Create Listings
This step is arguably the most important one in your Etsy shop setup. Your prospective buyers will see listings as they click on your storefront. Therefore, they should be attractive and captivating, sending a clear message.
Here are some ways to create the most eye-catching listing for your Etsy store:
Use quality photos: Your product's first impression is vital to attract customers, which you can easily do with quality pictures. Consider using great lighting, neutral background, and all the potential angles. Doing so will allow customers to understand your product holistically.
Write captivating product descriptions: Keep your audience in mind for an effective product description. Address their needs and highlight how your product fulfills them.
Integrate relevant keywords: Using keywords in your product listing is essential as they align and attract customers looking for your products. You can use various free keyword research tools online for ideal keywords.
Price your products competitively: Your time, effort, and material costs decide your product rates. However, Etsy's charges and your competitor's pricing also help decide how to price your product.
Step 6. Keep Track of Your Inventory
Inventory management tools and spreadsheets assist in keeping track of your inventory. You must ensure the products you're offering aren't out of stock. Moreover, you must also record your inventory to ensure proper order fulfillment.
Step 7. Fulfill Orders
Order fulfillment is a hectic process as various things go on simultaneously. Your first line of action should be quality packaging with your brand's logo and a handwritten note or other personalized gesture.
Besides that, tracking orders and keeping records of shipment information assists in reducing order mix-up risks. Order tracking also allows keeping your customers updated regarding product deliveries.
Step 8. Impart Excellent Customer Service
Go all in with your customer service and ensure building a relationship with them. You want your customers to keep coming back to your store instead of running off to your competitors.
Work proactively and address any customer feedback, returns, exchanges, and delays timely. Please don't wait for problems to arise when you know you can prevent them.
Step 9. Market Your Store
The marketing strategies you use for your Etsy store will make or break your business. Invest in quality resources and social media presence to ensure a successful business. Furthermore, use collaborations wisely to promote your products.
Hashtags and keywords also assist in higher product ranking and enhanced visibility in your niche. Use your customer testimonials on the website to assist prospective buyers in decision-making.
Step 10. Keep Track of Your Finances
Tracking your finances becomes challenging when you're overwhelmed by other business operations. However, your investment and profits matter to sustain the business in the future.
Set financial goals and keep track of incoming and outgoing money to pay taxes and fulfill your goals. Use spreadsheets or online bookkeeping tools for this purpose, or hire a virtual bookkeeper to assist you in this essential business operation.
FAQs on How to Start an Etsy Store
Let's discuss some of the FAQs on how to start an Etsy store.
How Much Does It Cost to Start Selling on Etsy?
Starting an Etsy store has several costs associated with it. Some of these costs are mandatory, whereas others are optional. Here are some of the costs to consider when you start an Etsy store:
Listing Fees: For every item listed on your Etsy store, the platform will charge a listing fee of USD 0.20. This non-refundable fee is payable even if the item doesn't sell.
Transaction Fees: Etsy deducts 5% from your sale price as a transaction fee when you make a sale.
Payment Processing Fee: If you use Etsy's payment processing system, the platform will charge 3% fees + 0.25 USD on every transaction.
Shipping Fee: For shipping items to your customers, you have to pay the shipping fees. These variable costs depend upon your shipping label printing and where your customers reside.
Materials and Resources: To manufacture the products you'll sell on Etsy, you certainly require raw materials and resources. Keep those costs in mind when pricing your products.
Professional Service Providers: Photographers, copywriters, and graphic designers are some service providers beneficial for Etsy sellers. However, these costs are optional if you have the knack for these skills.
Advertising and Marketing: Marketing strategies and paid advertisements require costs to get started. These costs are optional but help stores attract customers fast.
How to Start an Etsy Shop With No Money?
Starting an Etsy store with no money isn't an easy task. However, with resourcefulness and creativity, you can succeed. Here are some ways to start an Etsy store with no upfront money:
Use the resources you already have: If you're creative, you'll already have supplies around your home or studio. Use those resources initially or upcycle your old creative projects. Doing so will help reduce material costs for initial product listings and present unique products for customers.
Start with minimal products: You don't have to start your full-blown Etsy store right away. Inventory can cost a lot when you have a minimal budget. Hence, start small and offer products from different categories to analyze what sells best.
Use free online resources: If your online social media presence is strong and engaging, you don't need to invest in paid advertisement early in the process. Moreover, you can use free online tutorials to learn new skills and use them to set up your Etsy store. For instance, instead of hiring a photographer, learn the skill with your iPhone and apply it to your product pictures.
Trade resources: As you begin your creative entrepreneurship journey on Etsy, knowing fellow creatives will come in handy. Know their work, initiate conversations, and ask for support through trading supplies and promotions.
Consider dropshipping: Your third-party supplier is responsible for crucial business operations, such as shipment and customer service. Moreover, you don't need upfront inventory, which saves you costs. Hence, consider dropshipping for your Etsy store, as it's also a sustainable business model and relatively more popular.
Start an Etsy Store in 2023
Starting an Etsy store in 2023 may seem overwhelming. However, it's the most viable option for creative entrepreneurs to make profits via their handcrafted products.
Etsy is still a popular avenue and doesn't require prior experience to run the business. As time passes and your business starts generating revenue, you can expand your team and hire professionals for daily operations. An Etsy store also works as a passive income stream for people busy with their separate day jobs.
Hence, try this business model to explore your creative entrepreneurship side.